Let us help you realise your gardens potential
Planting a harmonious garden with colour, rhythm, focal points and year round interest is a complicated business. It can't be done by just picking a few plants that are in season from the garden centre and placing them here and there.
For us plants are not just pretty pictures, they create moods, movement  and stimulate all the senses, none of which can be achieved with bricks and mortar.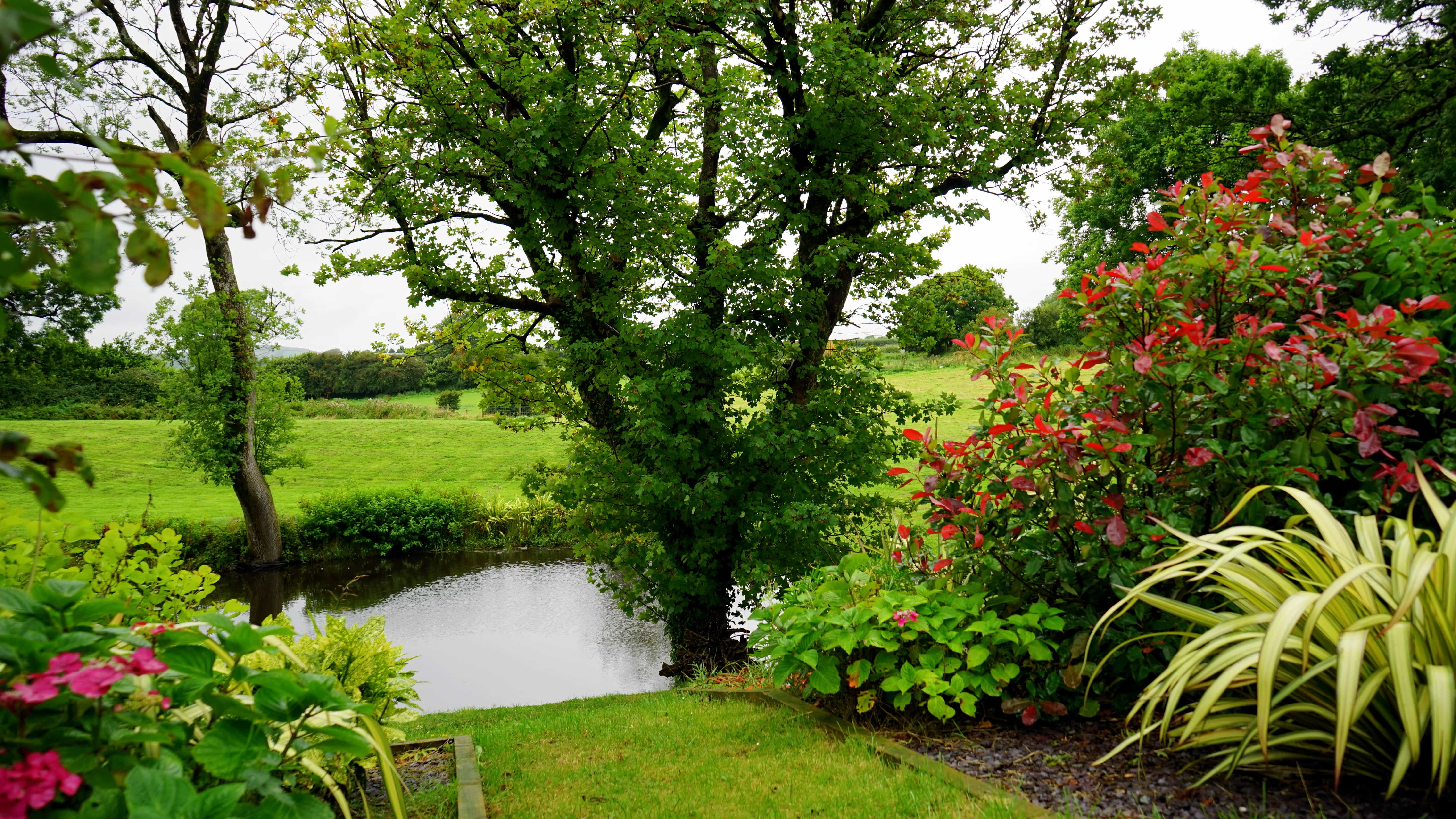 Creating your perfect planting plan
What we do first is design the border/garden on paper. First of all we compile a plant list  which comprises of plants that suit your soil and your tastes best.From the list we will pick structural plants to create the backbone of the planting plan.
We then consider  how to weave different plants together using their flower colour and their leaf colour. Using the foliage of a plant also helps link plants together but can also create great contrasts within a scheme.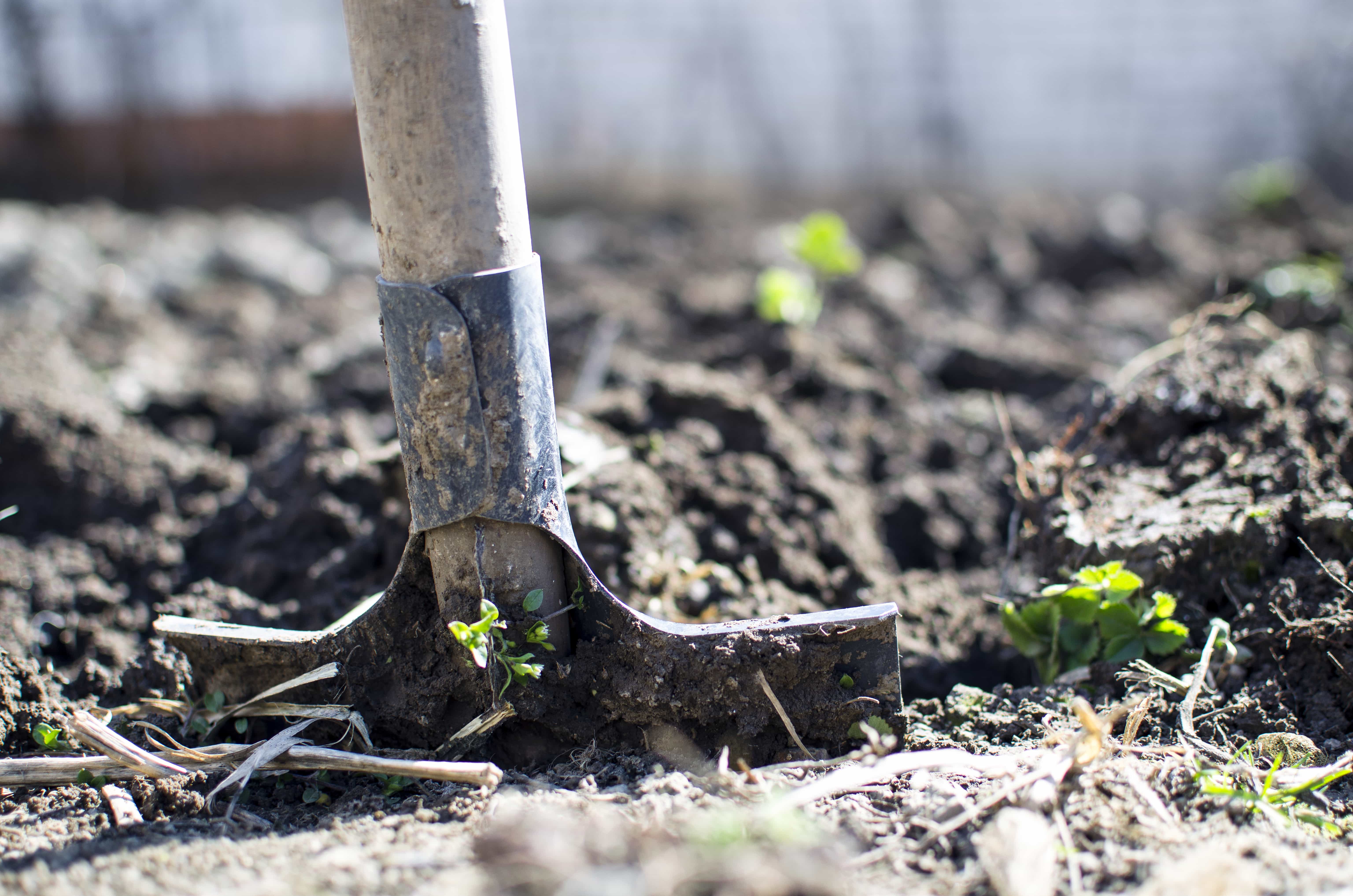 Creating your gardens mood
We also take into account flowering times so that we can design a border which will be in flower for a long period of time.Colour can also be used to create a mood in the garden, whether it be the cool hues of blue and pale yellow, or maybe something zingy like reds and orange.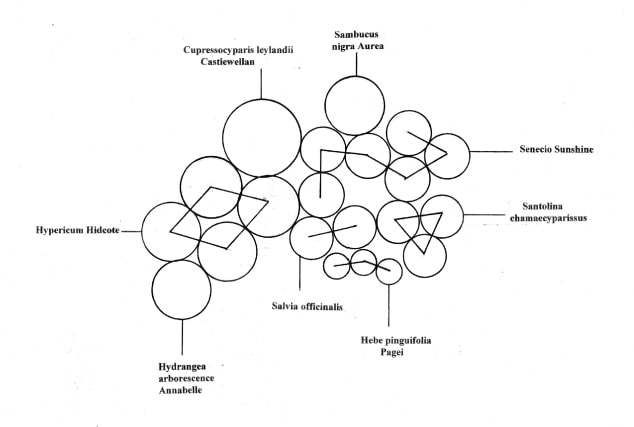 Example Planting Plan
Opposite is an example of a planting plan. All the circles represent either trees, shrubs, or perennials. These are drawn to scale and represent the fully grown width of the plant.
Frequently Asked Questions
Why do I need a Planting Plan?
Whether you are thinking of renovating your house, designing a garden or even conquering the world, you are going to need a plan. It will concentrate your thoughts and help you avoid unnecessary risk.
What will it give me?
What a planting plan gives you is basically a map of where all your plants are going to be within the border. The plan will show groupings of plants and the exact amount for the area. From this plan a shopping list is created, basically a list of all the plants in the plan, which can be taken to the nursery/garden centre.
Sounds easy! Can I do it myself?
Well I am sure that there are some of you out there who could do a great job designing a scheme. I am here to help the ones that can't, the ones who love gardens and plants but have no knowledge how to put plants together. As previously mentioned, I analyse the soil conditions, aspect but most of all get to understand the style of garden you want to achieve eg: 
Cottage-style garden
Contemporary garden
Formal garden
Wildflower garden
Informal garden
Sensory garden
Wildlife garden
I will choose plants for any given situation eg, dry shade, windy, coastal, woodland etc. Countless times I have come across gardens where the plants are not thriving because they are in the wrong place or a shrub has taken over a border because it is too big for the space.
Getting PurelyPlanting to design your garden, will cut out the risk of buying the wrong plants for your garden, which in turn will save you money!
Key benefits of having a Planting Plan done by PurelyPlanting
Have your scheme planned by a knowledgeable plantsman
Achieve the exact mood you want to create.
Cut out the risk of buying the wrong plants for your garden, saving you money
Have a beautiful garden
Understanding how we work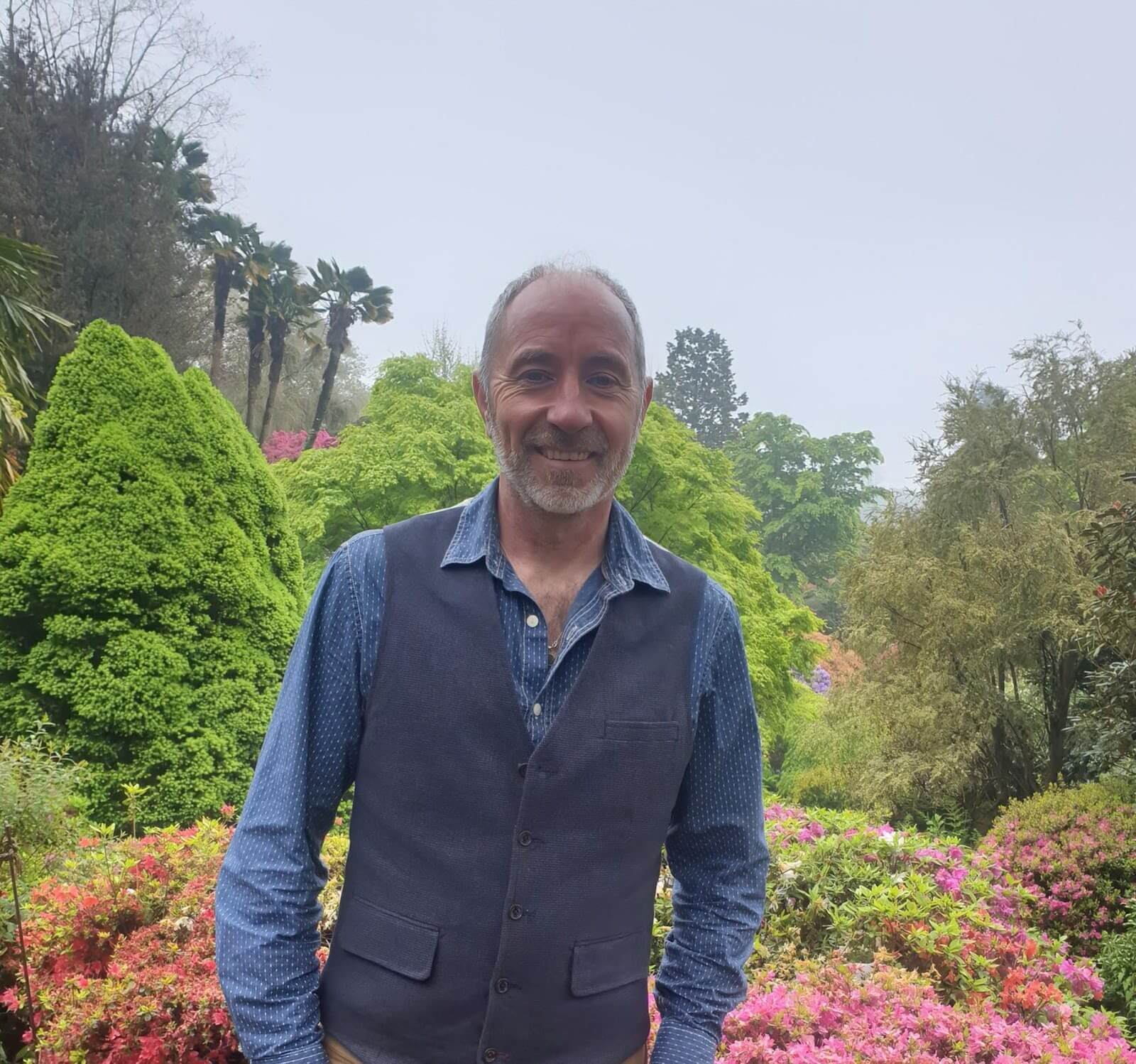 Stage One – Consultation
Upon contacting us we will visit you for a free consultation. At this stage we can ascertain what you would like in your garden and the styles that you prefer. If you have any examples from magazines, books or gardens that you have visited and liked, it would be great to show them to us at this point, to help with the design process later.
We will then send you a quote for designing the planting scheme and an estimate for the whole job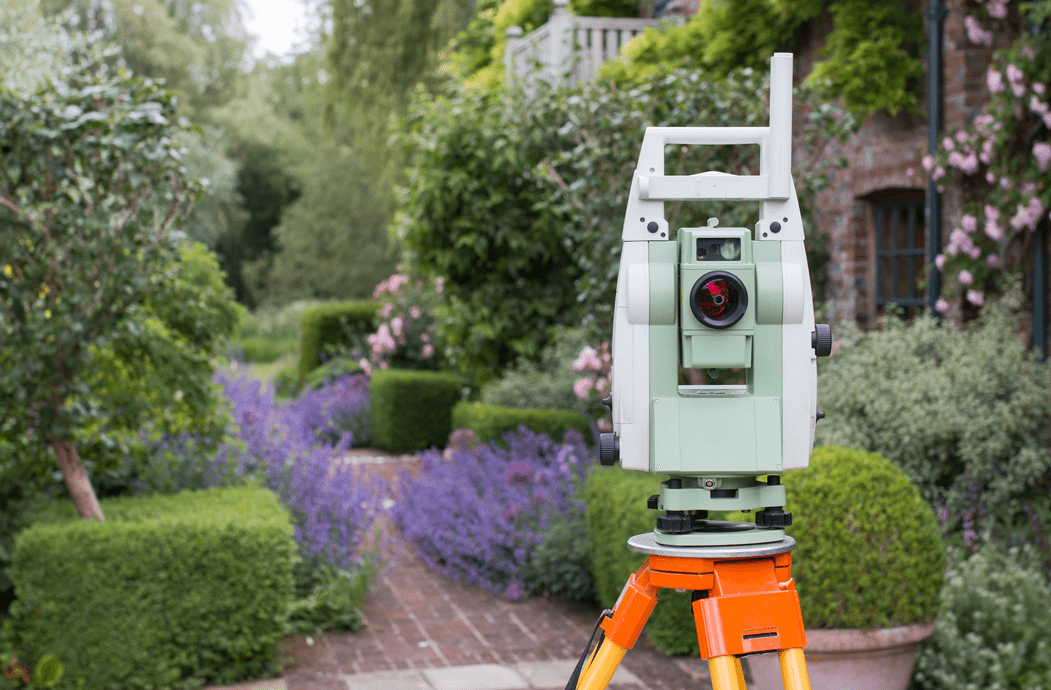 Stage Two – Site Survey
With your approval, we then return to survey your garden, taking soil samples, assessing the aspect and basically getting a good 'feel' for your garden.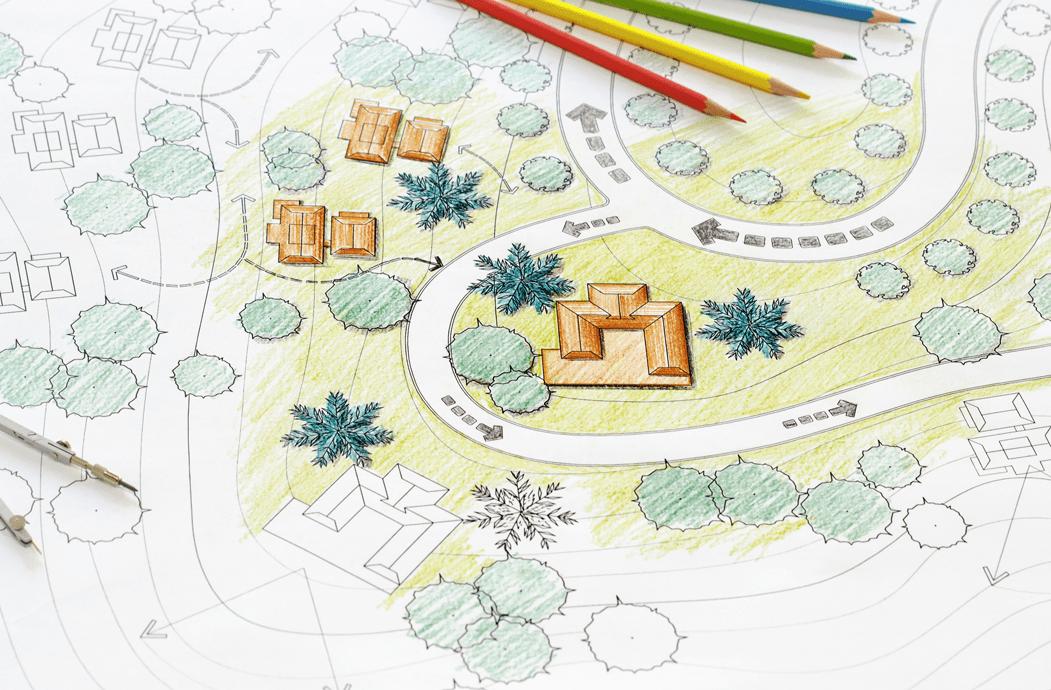 Stage Three – The Design
We then go away and get very busy designing a planting plan and creating a  visual presentation for when we meet again. At this meeting we will explain our design to you and what to expect from the design, although there will always be a few nice surprises. We also give you a full quotation at this point.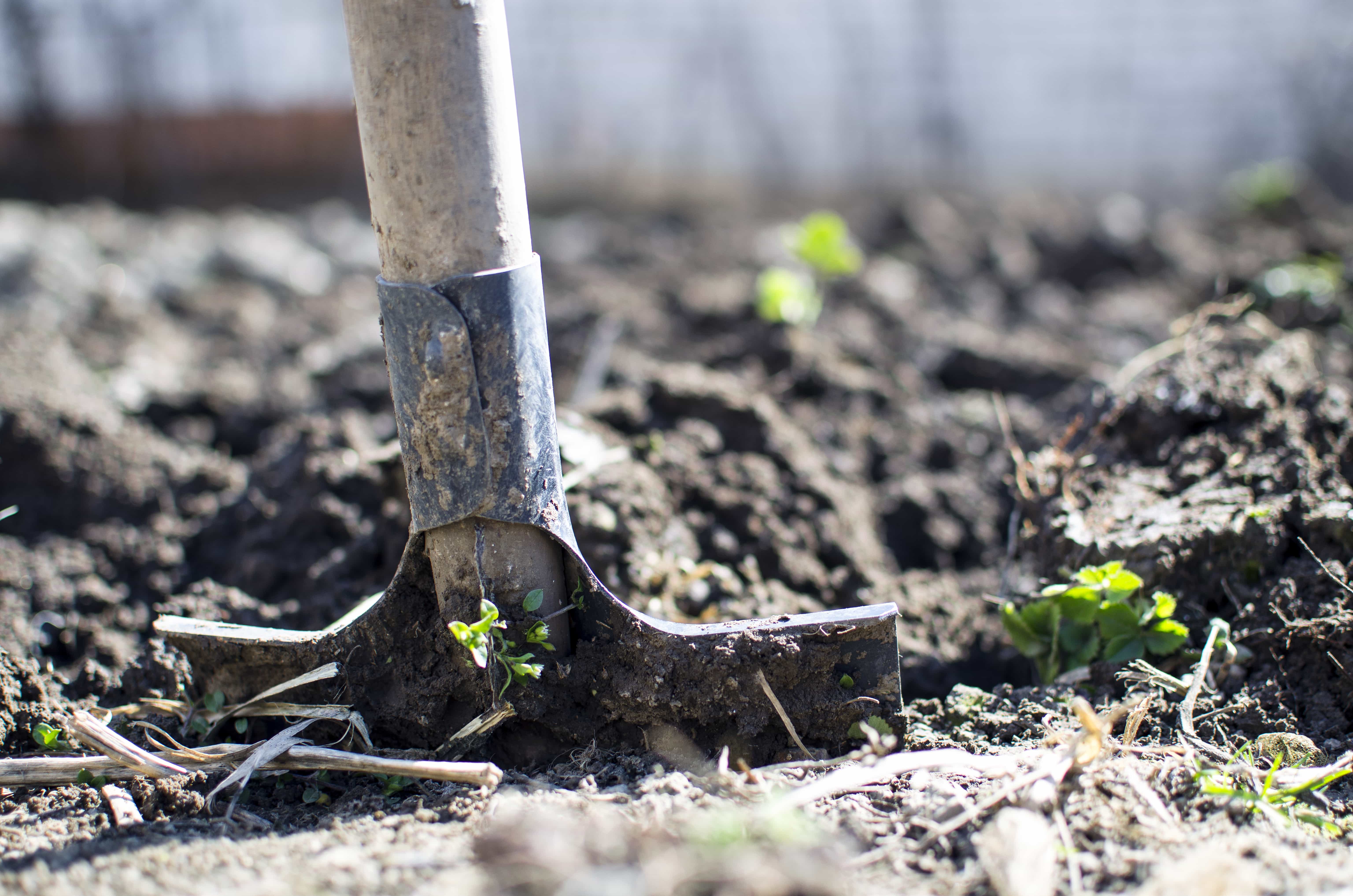 Stage Five – Preperation
Then the dirty work starts, digging, preparing the soil and adding organic compost where necessary.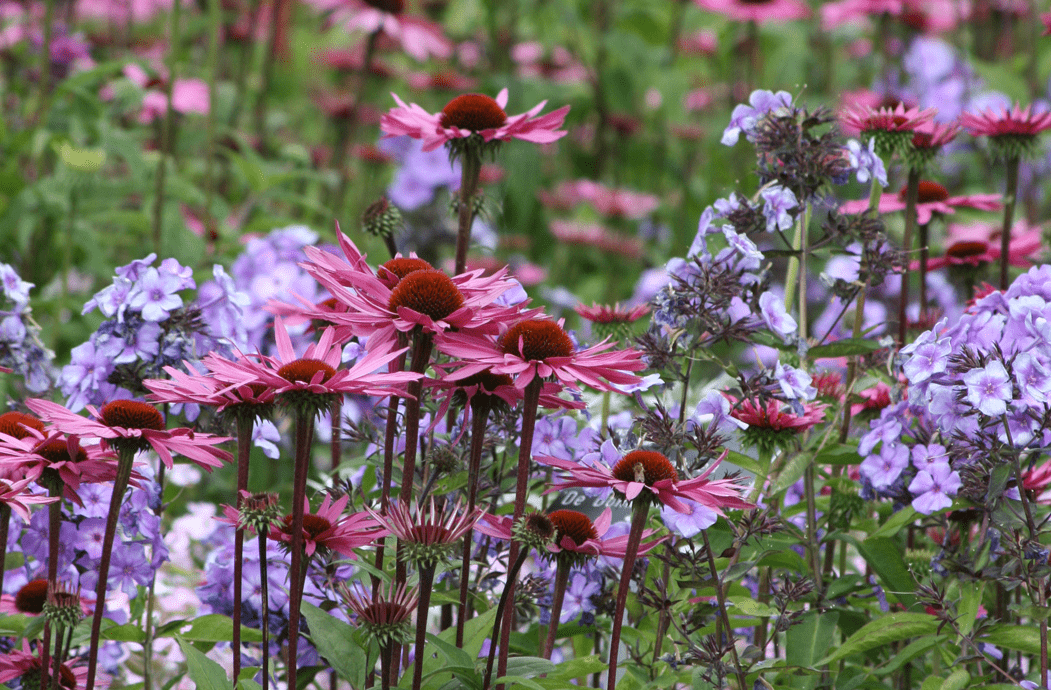 Stage Six – Planting
Saving the best until last, we then implement the planting scheme.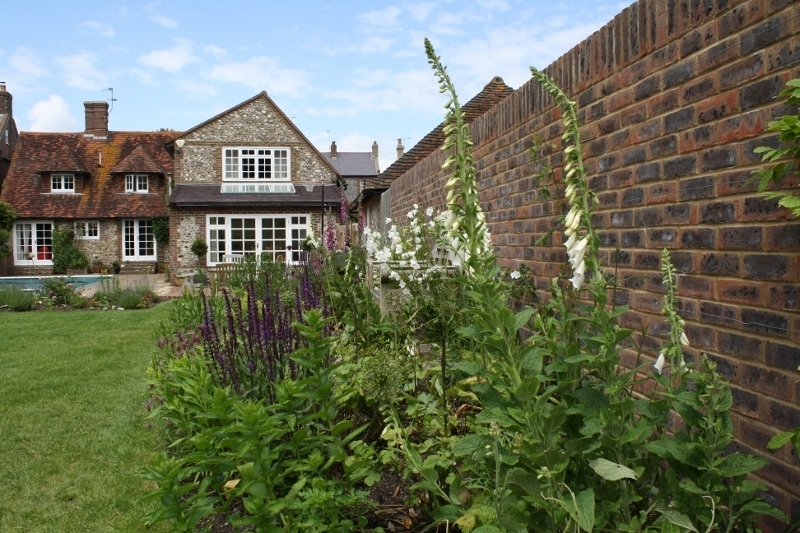 Stage Seven – Garden Review
Plants are living things and nature plays a big role in how they adapt. So to ensure things are going to plan, we like to review the garden from time to time. At this time we can impart more gardening tips to keep your garden looking good. This first review is free to you.
We can offer a garden maintenance program to keep your new scheme in tip top condition. We charge an hourly rate for this.
Where would you like to go now?
Contact us for a FREE consultation